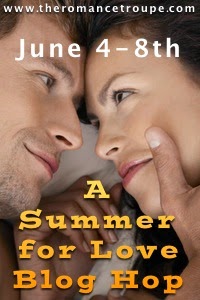 I don't know about you, but where I live we had a very long, very cold, very hard winter. So maybe more than ever before, I'm very happy to see spring blooming all around me. I hope we have a long, not-too-hot (in other words, perfect) summer ahead of us!
To me, summer is about only have to wear one layer of clothes, about smelling food grilling when I get home from work, about vacations and mosquitos and ice cream and eating outdoors and green, green everywhere. I'm not much of a gardener (unlike my character Rhys!) but I do love seeing all the colorful flowers and the grass that emerges from underneath the snow and the trees that explode in various shades of green.
What do you love about summer? Let us know in the comments!
By adding a comment, you can not only enter the grand prize drawing, but also enter my giveaway below for a chance to win one of two $5 gift cards to your choice of Amazon or Barnes & Noble. Just login to the rafflecopter app after making your comment and check that off. Then take a look at the other options for additional entries into the giveaway. And good luck!
My book The Reluctant Billionaire is currently part of a boxed set of BBW romances. I hope you enjoy this scene where Rhys and Sophie take an evening walk through his gardens.
The Reluctant Billionaire
They walked down a path lined with bushes and flowerbeds–petunias and roses and gardenias of all different colors. The path led to a little bridge over a pond, then into a sleepy area with big trees and benches. A fire pit sat in the middle, though no fire was lit tonight.
"Here we are. It's a great place for night time parties, which is why the fire pit's here." He steered her toward one of the benches. "Let's sit. The flowers won't bloom quite yet."
Oh, no. He wanted them to wait here while the flowers bloomed? That could take a long time, couldn't it? "I really need to get back."
He pulled her down onto the bench. "Oh, come on. This'll be worth it." He slung an arm around the back of the seat so it brushed her shoulders. His thigh lay against hers and his fingers stroked her arm.
Her stomach fluttered. Torture. That's what this was. She'd wanted some distance so she could figure out what she wanted, and she'd gotten the opposite. No distance; instead, she felt like she was drowning in him. "How's work?" she stammered.
"It's fine." He paused. A long pause. Nearly long enough for her to want to fill the silence. "I'm going to have to go to New York for a while on business." His fingers continued to rub her arm. "I'd like to call you while I'm gone, if I could."
She shifted to face him, dislodging his hand. "Rhys. We're not dating. We can't. You know that."
"What I know is that you're not even giving us a chance. What's the worst that could happen? The very, very worst?"
She took a breath but didn't answer.
"I'm serious. Tell me what the worst that could happen is. I'll go first. We could fall in love and then something horrible could happen and we could be torn apart, never to be together again, and I could be so distraught that I commit hara-kiri. And with my death, my company will fail and all the people who work for me will lose their jobs and one of them will be so upset he'll invent a death ray that blows up the earth and everyone will die. Well, except for me, because I'll already be dead."
She tried to swallow her laughter. "That's ridiculous."
"So's this idea that we can't date. So go ahead. Your turn."
She couldn't do this. "What–you want me to make something up where everyone dies at the end?"
"Or whatever your version of 'worst thing ever' is. And then when you see how ridiculous it is, you'll be able to see this whole thing in perspective." His arm dropped down the back of the seat to rest around her hips, its warmth surrounding her and causing a riot of excited tingles all through her.
She'd had enough. "Do you always have to do that? Touch me? Don't you know how hard this is?"
He leaned into her so fast she didn't even see him move, cupping her face, their foreheads just an inch or two away from each other. "I know exactly how hard this is. Do you? Do you know how bad I want you? Want to touch you, kiss you–hell, just want to be around you?"
She didn't know what to say. In the second that she hesitated, he leaned forward and pressed his lips against hers. When he pulled back, he didn't go far. "Just give us a chance, Soph." Then he kissed her again, softer this time. Their lips parted and his tongue slipped into her mouth, tangling with hers.
She couldn't force herself to pull away. She should; she knew she should. But it felt so good to be held in his arms, so right, and she wanted to stay there forever and forget the rest of the world existed.
Rhys' arm tightened around her back, pulling her closer. Twining her arms around his neck, she let him draw her in. With a groan, he dragged her onto his lap, ending with one arm around her waist and the other hand threaded through her hair to hold her in place as their kiss deepened even further.
She forgot…everything. She forgot her reasons for needing to stay away from him. She forgot that she shouldn't be doing this. She forgot her name. Instead, she pulled him closer and opened to him, ready to give him the world if he'd just keep kissing her like that.
Rhys broke the kiss, pulling back by a hair. When he spoke, his lips were still so close they brushed against hers with every word. "Let's go back to the house. To my room." His eyes, so close to hers, were dilated with desire, his breathing ragged.
She could only imagine what he saw when he looked at her. She still couldn't think straight, but she knew this was her only chance to stop this. But why did she want to? She couldn't remember.
Rhys' hand cupped her cheek again. With a groan, he pulled her back into a kiss. She gripped his shoulders to hold on as he plundered her mouth.
But as she held him, she remembered. The last time she'd felt like this, she'd thought it would last forever. And then she'd lost everything, bit by bit…her pride, her job, her child. A thread of fear wormed its way through her gut. What if this was the same? Rhys may not intentionally hurt her, but he lived in a different world. He couldn't possibly mean this to last forever. So she'd get hurt. Again.
Pushing him away hurt too, but she did it. "We shouldn't."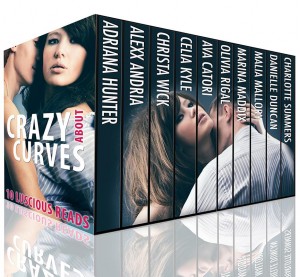 Crazy About Curves
Rock your inner big girl!
What do rock stars, a movie star, several billionaires, some alpha wolves, a mercenary and a couple of guys next door have in common? They're all Crazy about Curves and they are all part of this collection of ten romances, from sweet to scorching, featuring plus-size heroines and the men who crave their lush, curvy bodies. Brought to you by today's hottest New York Times and USA Today Bestselling Authors and romance's future stars!
Captive Heart – Adriana Hunter
Alpha Marked #1: Scarlet – Celia Kyle
Curvy, Crazy, and Confused – Ava Catori
The Reluctant Billionaire – Danielle Duncan
Bought by the Billionaire Brothers – Alexx Andria
Bikini Curves – Charlotte Summers
Ripped – Olivia Rigal
Curve Contract – Christa Wick
Something True – Malia Mallory
Laid Bear: The Kodiak Clan – Marina Maddix
Amazon US
Amazon UK
Barnes & Noble
Apple iTunes
All Romance Ebooks

GRAND PRIZES
(6) $50 Amazon or B&N Gift Cards
Comment with your name and email to be entered into the Grand Prize drawing. Comments without name and email will not be counted. Commenting on each and every stop will increase your chances of winning.
Winners for the (6) Grand Prizes will be drawn and announced on THE ROMANCE TROUPE blog by June 10th.
Find a list of all stops here!
http://www.theromancetroupe.com/p/a-summer-for-love-blog-hop.html