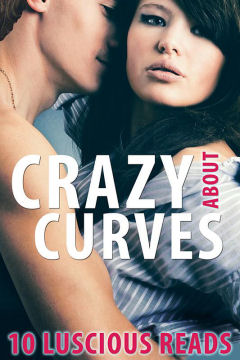 If you haven't already, check out Crazy About Curves coming to you from such authors as Adriana Hunter, Christa Wick and Danielle Duncan. See below for the exciting blurb and find out about the ten great books you can get for just $0.99! And then check out the excerpt from The Reluctant Billionaire, one of the ten books in Crazy About Curves.
Also, don't forget about the giveaway! (Scroll to bottom for that.)
Rock your inner big girl!
What do rock stars, a movie star, several billionaires, some alpha wolves, a mercenary and a couple of guys next door have in common? They're all Crazy about Curves and they are all part of this collection of ten romances, from sweet to scorching, featuring plus-size heroines and the men who crave their lush, curvy bodies. Brought to you by today's hottest New York Times and USA Today Bestselling Authors and romance's future stars!
Captive Heart – Adriana Hunter (NYT/USAT). Lainey Matthews will stop at nothing to rescue her brother, even if it means contacting a dangerous mercenary with a shady past. But when she comes face to face with Gideon Wolfe, it doesn't take long before she has to wonder whether she might be the one that needs saving…from him.
Alpha Marked #1: Scarlet – Celia Kyle (NYT/USAT). Thirty and single? Well, getcha ass to the Gathering! As if hitting thirty wasn't enough, unmated Scarlet is summoned to this year's Gathering. Marked to mate an Alpha pair, she can only find happiness with two werewolves. Which means werewolf speed dating. Great.
Curvy, Crazy, and Confused – Ava Catori (NYT/USAT). Samantha finds her uptight neighbor boring. Christopher thinks she is loud and annoying. Being trapped in an elevator together should be their worst nightmare. So why can't Sam stop thinking about him, and why is the claustrophobic Chris more than ready for another elevator ride with the plush beauty?
The Reluctant Billionaire – Danielle Duncan. After a failed affair with a billionaire, Sophie swears off workplace romance and takes a job as another rich man's chef. Then she falls hard for Rhys, mistaking him for a mere gardener. Can love survive his secret, her ex-lover and a lawsuit that threatens everything?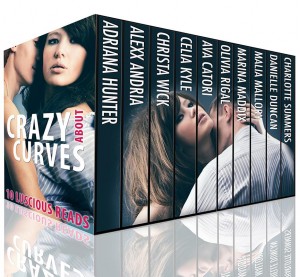 Bought by the Billionaire Brothers – Alexx Andria (NYT/USAT). Twins Nolan and Vince hatch an indecent plan to put accountant Penny McDaniels in their bed at any cost. Soon enough, their feelings for Penny go beyond the physical, but they never imagined their older brother Dillon would return home and threaten everything in their world.
Bikini Curves – Charlotte Summers. Rescued from drowning, layout artist Maddy Davis never expected her hero to be womanizing actor Alex Stone or for the event to be aired live on TV. Now she's part of a PR stunt to save his tarnished reputation. But how much of Alex's interest is a role and how much is real?
Ripped – Olivia Rigal (USAT). Lyv wants a life far removed from her dysfunctional family and the diner they own, especially now that Ten, her best friend and lifeline to normality, is spending a semester in Europe. What she gets is an absent rock-star baby daddy and one helluva choice to make – unless it's ripped from her first.
Curve Contract – Christa Wick (NYT/USAT). Cheated by her PR firm's CPA, Pippa Jones is about to lose everything – until billionaire Blake Cross offers to fix both their problems with a fake marriage. But with Blake worshipping her body 24/7, the cost of saving her firm just might be a broken heart.
Something True – Malia Mallory (NYT/USAT). Irish superstar Liam Smith is in trouble with the law – again – and must perform community service. A music charity that entertains hospitalized kids seems like the perfect fit, especially since its director Shelley Taylor is as curvy as his favorite guitar and he wants to play her.
Laid Bear: The Kodiak Clan – Marina Maddix (NYT/USAT). After six years a widow, bear shifter Veronica Muir falls in love, with a human. Her secret might be the one thing marine biologist Jess Slade can't accept – if a group of human-hating werebears doesn't rip the couple apart before he can even decide.
Amazon US
Amazon UK
Barnes & Noble
Apple iTunes
All Romance Ebooks
Excerpt from The Reluctant Billionaire
Rhys knelt on his knees as he planted a row of petunias along the edge of the area where the dance floor would be set up. Across the open area, his gardener Harris planted an identical row of plants. Harris didn't really need his help, but Rhys loved getting his hands in the dirt.
Footsteps sounded on the stone walkway leading to where he knelt. They didn't sound rushed—probably not Janet, desperately tracking him down for another last minute question. Maybe someone else out for a stroll.
The footsteps came closer, turned the corner, then stuttered to a halt not far from him. Rhys finished patting the dirt down around the current petunia before looking up.
Sophie.
Even he could feel how wide his smile was. "Hey, you. How are you?"
She shifted from one foot to another, not smiling. "Good. I was just curious about the party preparations."
Rhys waved behind him. "Take a look around. It's shaping up nicely." He stood, brushing his hands off on his jeans. "I could show you around."
"I'm sure you're busy—"
"Not at all." He put his hand out.
She looked at it for a second before placing her hand in his. "You really don't have to do this."
"My pleasure." He tucked her hand in his arm and walked forward. "This area normally has some tables and chairs but they've already been moved to the shed. Tomorrow workers will come and lay down a dance floor over this stonework."
"How will they do that?"
"It's a modular thing—the different pieces of the floor click into place. At least that's how it was described to me." Rhys pointed to the side of the dance floor area farthest from the house. "That's where the deejay will set up. And over there," he pointed to the side opposite them, where Harris still planted petunias, "we'll have a couple of tables of hors d'oeuvres and one of the bartenders."
"And we'll have wait staff circulating with food as well, right?" she said.
"Yes. But we're going to warn them to stay off the dance floor. Can't you just see it—kids flailing to the music, trays of food hitting the ground left and right?"
Sophie laughed, leaning into him. "That's a nightmare. All of my food!"
"Exactly. We don't want to lose a morsel." He put his hand over hers on his arm.
She straightened, but didn't pull her hand away. "Are you going to let them go into the gardens?"
"I don't see how we can stop them."
"But they're sixteen—won't they be tempted to sneak off and…" Her cheeks turned pink.
"Good point. Maybe you and I should patrol the gardens on the night of the party." He could think of some things he'd like to do with her under the rose bushes on a dark night.
"I'll be in the kitchen, remember? Churning out hot appetizers for the troops."
"And dancing with a certain man?"
Sophie bit her lip. "So is this what you do around the house? You're a gardener? You could have told me that, you know."
He'd been trying so hard not to lie to her—at least not outright. It was getting very old. He wanted to tell her the truth, but he feared she'd push him away as quick as she could. So he'd deflect yet again. "I enjoy gardening."
She gazed at him a moment, as though she knew he had just given her another non-answer. "Did you grow up here? Is that why you know the family so well?"
He could answer that one truthfully, but it would come across as a lie. And he just didn't want to. "Have you met Harris?"
Sophie frowned. "Yes, we met a couple of weeks ago."
Which was just as well, because Rhys hadn't been thinking. Harris would give him away faster than anyone, and never realize he'd done anything wrong. "Let me show you the gardens." He pulled her along by the hand she still had tucked in his arm.
He liked touching her, even if it was something as innocent as this.
Rhys led her onto a path between two huge oak trees. They passed through a wooded area with little flowerbeds and benches strategically arranged throughout. These were the shade beds, with flowers and plants that didn't like the scorching sun. He loved this part of the garden more than any other, for the feeling he got of being sheltered under the arms of these huge trees, protected from the stark sun.
"It's beautiful," Sophie said.
"I used to come out here as a boy and play in the trees. I even built a tree house." He pointed toward the right. "You can just see it up there. It's well-hidden. I didn't want anyone to be able to stumble upon it."
She squeezed his arm. "Your privacy was important to you even then."
This woman sure had his number. "You want to see it?"