I have a question for you. But first, make sure before you leave that you check out both the giveaways below and when you do leave, you're headed for one of the other great sites on this hop! Now here's the question:
What is your favorite sub-genre of romance? Do you like billionaires or bikers or rock stars or shifters or historical romances or something else entirely? I want to know!
It's fine to give more than one answer. 🙂
For me, I like a lot of different sub-genres but I tend to focus on one at a time and read it voraciously and then move on to another.
And now for an excerpt from my latest romance release, The Reluctant Billionaire:
The Reluctant Billionaire
Stopping in the kitchen doorway, Rhys watched Sophie bustle around the room putting things away. It looked like too much work for one person, but all of his cooks along the line had insisted they didn't need help.
He liked watching her move. She had a grace to her, a smooth sureness about where she stepped and where she put each object. He never would have thought watching someone clean a kitchen would be sexy, but she made everything sexy.
Finally, he decided he'd moved from casual voyeur to peeping tom. It was time to let her know he was there. "Do I smell chocolate chip cookies?"
Sophia jumped. "You scared me to death."
"I've been here a few minutes." More than a few. He sauntered into the room, his hands shoved into his slacks. "You were really focused on your work."
"Well…of course."
He stopped a couple of feet away from her. "Cookies?"
Her cheeks turned pink. As she pulled a plastic storage container off a shelf, she said, "You were right about the cookies. Thanks for the tip." She opened the top and the scent of fresh-baked chocolate chips wafted out.
Before she could give him a measly two cookies again, he stuck his hand in the container and grabbed a handful.
"Hey!" Sophie pulled the container out of his reach. "Those are for Mr. Blackwell."
He shoved one in his mouth. Should he tell her he wasn't who she thought he was? It might be more fun to see how long it took her to figure it out. "Mmmm." As he moaned in pleasure, he caught a glimpse of her face–bright pink, rapt, a little glassy-eyed, gazing at his mouth. What was his little cook thinking of?
After swallowing, he held one cookie out. "Want one?"
"I shouldn't."
He stepped closer. "Why not?"
"A minute on the lips, a lifetime on the hips."
It took him a second. "You aren't suggesting you're fat."
She turned a darker red. "I don't want to talk about it."
Rhys grabbed her arm. "You aren't fat. You're perfect." His voice dropped. "Perfect and incredibly sexy."
Her eyes grew wide.
Leaning closer, he said, "You believe me."
"But–"
He got closer and closer. Another second and their mouths would touch. "No. You believe me." He felt her breath against his lips. "You're perfect."
Rhys bridged the small gap between them and kissed her, his heart beating loudly in his ears. She kissed him back for a second, then another, then just when he was ready to pull her fully into his arms, she stepped back. He stepped forward, not wanting to let her go, and crowded her against the counter.
Sophie put her hands on his chest. "I can't."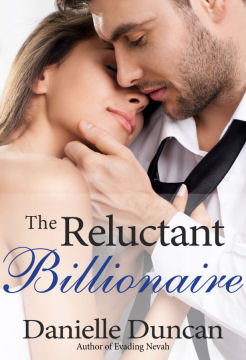 When BBW Sophie begins her new job as chef in William Blackwell's mansion, she wants a new start. Her last job led to a romance with her billionaire boss which ended in heartbreak. This time, she swears she'll stay away from workplace romance…a vow that's put to the test when she meets the enigmatic Rhys, one of the mansion's gardeners.
William "Rhys" Blackwell might be a billionaire, but he still loves digging in his gardens. When he meets Sophie he feels instantly attracted to her. But Sophie says she doesn't want to date anyone from the mansion, and Rhys knows that goes double for him, so he keeps his identity quiet. Maybe if she gets to know him first, she'll change her mind.
In the midst of the growing attraction between Sophie and Rhys, they have other problems to deal with, too…a lawsuit, a billionaire ex-lover and more. In the end, there's just one question: what are they willing to risk for a chance at love?
Discounted for a limited time.
Amazon US
Amazon UK
Barnes and Noble Nook
All-Romance Ebooks
a Rafflecopter giveaway
a Rafflecopter giveaway